Lions Class Blog
Week ending Friday 13th November 2021.
We have had a lovely week in class this wee. In our writing we have been trying to answer the enquiry question 'how are polar bears adapted to the Arctic?' The children have done some research, taken notes and have published their writing.
In Maths, the year 5 children have been exploring square numbers and have made square numbers and square number fortune tellers.
We have also been reading about Armistice Day and the children have done some reflective writing, thinking about what and why we remember, as well as what we have to be thankful for.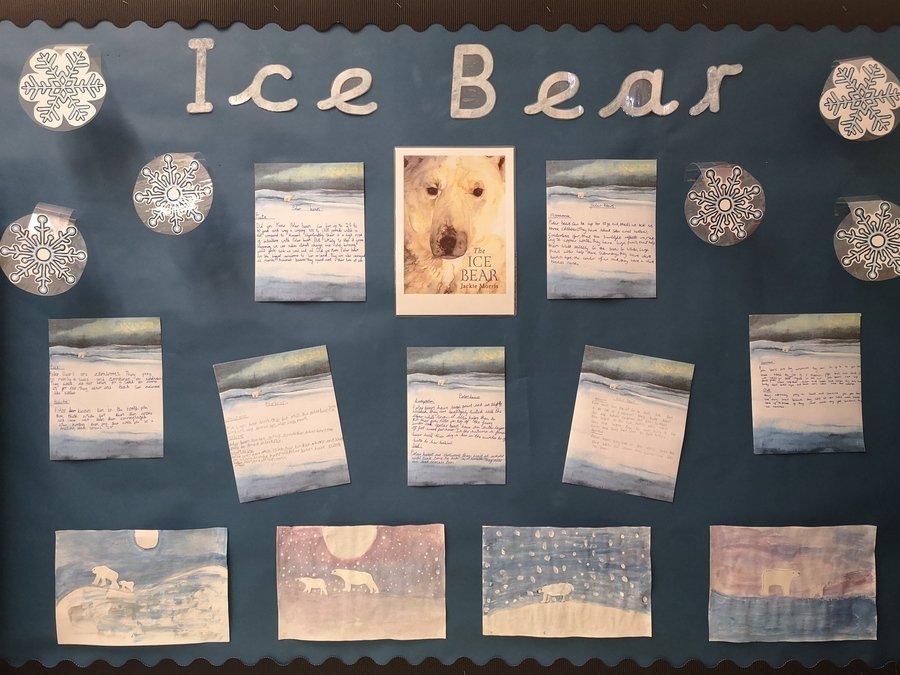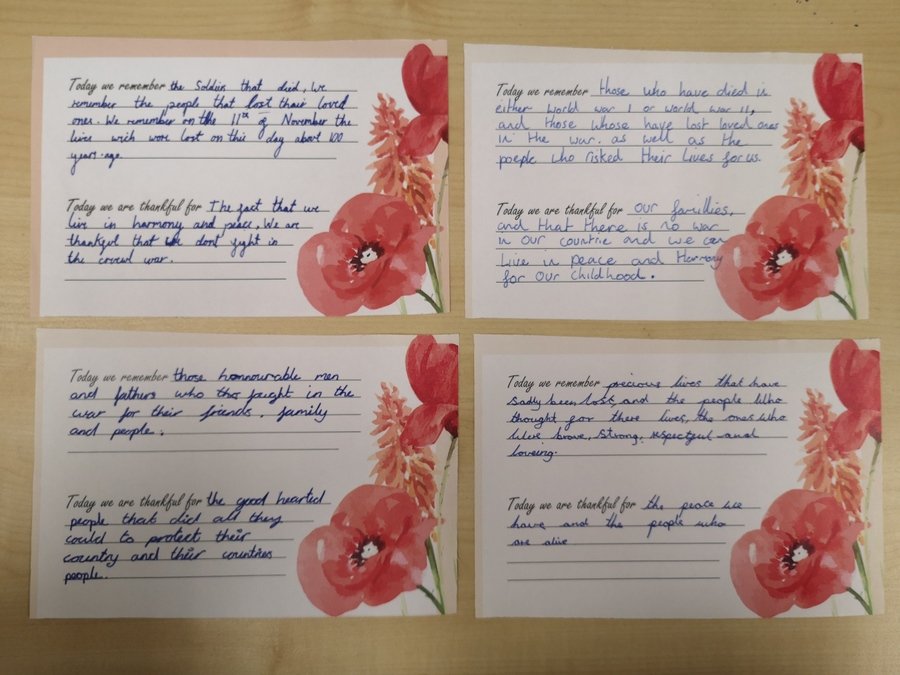 Week Ending Friday 5th November 2021.
What a lovely start to a new term and a new topic. We began our Northern Lights topic by exploring the enquiry question 'where is Scandinavia?' The children used atlases to locate Scandinavia and to name the 3 countries and their capital cities. We looked at how the most Northern region of Scandinavia is part of the Arctic circle and linked this with our new class book, Ice Bear, by Jackie Morris.
The children have done some beautiful art work relating to the Northern Lights and to the Arctic habitat of polar bears.
Week Ending Friday 22nd October 2021.
This was a busy end of term week. We finished our Viking topic, continuing with the enquiry question what can we learn about Viking culture? The children painted and wore their Viking amulets and ate some Viking style food; oat cakes with 'foraged' fruits.
Throughout this month the children have been enjoying some specific 'Black History Month' books in our classroom library, have been learning about influential Black musicians in Music lessons and had an African drumming work shop to celebrate that influential aspect of African culture. They also researched and wrote about significant Black people for some additional home work.
Well done Lions Class- it's been a fantastic term!!
Week Ending Friday 8th October 2021.
We started to week by learning about Viking Longhouse, thinking about our enquiry question, what can we learn about Viking culture? The children worked in groups to make a longhouse, which we have grouped together to create a Viking settlement.
In our writing this week, the children wrote the next chapter of our class book, Viking Boy, focusing on keeping the reader interested and engaged by using ambitious, descriptive language.
We ended the week by voting for our next School Council and Spiritual Council class representatives. I will let you know who will be standing for Lions class just as soon as the votes have been counted.
Week Ending Friday 1st October 2021.
This week we have been preparing for our Harvest celebration assembly. We thought about what we have to be thankful for and about the people who help to keep us from being hungry.
We wrote prayers, giving thanks and also asking God to help us grow seeds of love, compassion, kindness and forgiveness within ourselves. The children's prayers and drawings were beautiful!
Week Ending Friday 24th September 2021.
This week our Science enquiry question was Can you hear the Vikings? The children explored why sound becomes fainter with distance. They reenacted the Vikings approaching, whilst banging their drums and noticed what happened with the sound as they came nearer and when they departed.
Week Ending Friday 17th September 2021.
This week, on Tuesday, we had our first class Mass at church for approximately 18 months. It was so lovely to return to church and the children were excellently behaved and really enjoyed being able to go to Mass again.
We also had a class visit from Father Jonathan on Wednesday. He spoke to the class about their topics in RE this term and answered their many questions! It was so lovely for the children to see Father Jonathan back in school again.
Week Ending Friday 10th September 2021
Our Topic enquiry question this week was Who was the most significant king during the time of the Vikings? The children learned about King Alfred the Great and King Athelstan and how they fought with the Viking for control over Britain. The children did some role play as each of the kings, arguing as to why they were the most significant.
We also started our class text, Viking Boy. The children worked collaboratively to perform a poem and used the text to find out about the main character.
In RE this week we thought about our own families and made our own family tree. We then went on to think about Jesus's family and created His family tree. Below is some of the lovely work the children produced.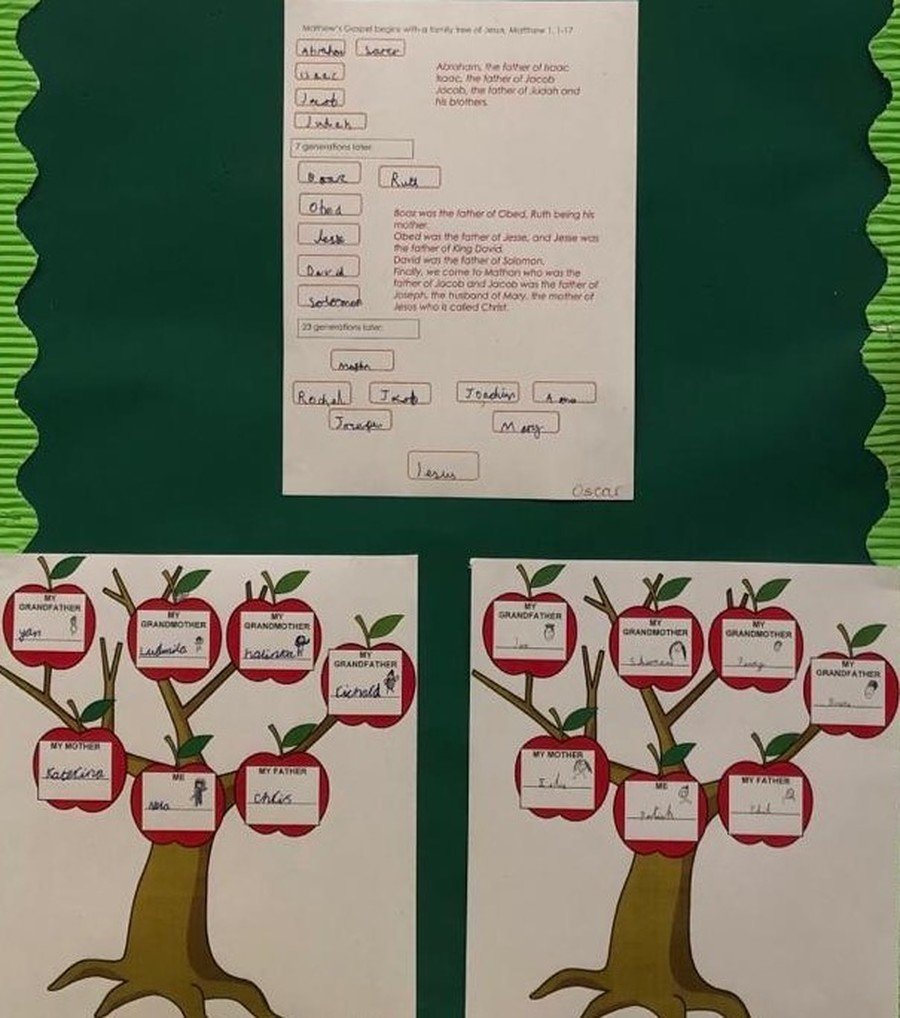 Week Ending Friday 3rd September 2021
It was so lovely to start our new school year and to welcome all of Lions Class back to St Pancras.
We had a fabulous start to the term and to our new topic, The Vikings; Raiders and Traders.
Our enquiry question was Who were the Vikings and where did they come from? We read information and used atlases to find out, and also learned a bit about Viking life and their weapons. In the afternoon, the children designed and painted their own Viking shield. Have a look at the examples below.